Our Affiliate Apartment Movers Will Easily Maneuver Through Any Space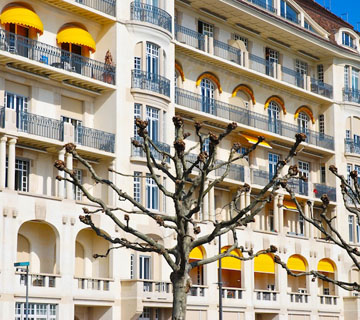 Find the Right Professionals for You Through the MovingCost.com Network
People often make the grand mistake of thinking that anyone can handle their apartment move. This couldn't be any further from the truth, because these types of relocations require vast amounts of experience. What makes an apartment different from a house in this respect? Simple; relocating to or from an apartment building means battling with sharp corners, tight entrances, and worst of all, cramped stairways. In order to avoid any potential damage to your belongings, the professional helpers handling your items will have to know how to maneuver past these obstacles. MovingCost.com is your advanced internet resource that connects customers directly to these moving companies and brokers.

Whether it is simple industry knowledge or state-of-the-art equipment, you can rest assured that our network of fully licensed and insured apartment relocation companies possess the abilities and tools needed to ensure the success of your move. So don't wait any longer and get stuck with an expensive company. Most importantly, don't leave your valued possessions to chance. Contact MovingCost.com right this minute and allow us to connect you to the finest moving help in the business.
Reliable and Affordable Apartment Relocation Services Are Yours
How would you like to not only receive premier assistance, but also be able to use a company that caters to your individual relocation needs and concerns? We have a network of licensed and insured affiliates will offer you a bevy of service options, so that you can pick and choose which ones best suit your relocation. We affiliate with companies that help you create customized relocation plans to make sure your shift is personalized. They offer blanket and pad wrapping to help avoid any scratches and dents, and even offer customized crates.
Looking for Low-Costs? We Have the Perfect Apartment Moving Company for You
Worried about the credibility of our network? Well don't be! We know that many people are worried about finding a credible moving company and broker they can trust. That's why MovingCost.com will only connect you to companies that have been pre-screened and fully comply with not only state but also federal regulations. To better ensure you get the best service, we closely monitor each moving company we recommend to you. We uphold the strictest guidelines, and require that each mover possess a reputation of providing quality customer service to all clients. We especially make it a point to only recommend movers and brokers that have garnered the highest quality service ratings, and deliver an impeccable track record in the household goods of good service.
Finally, a Dependable Way to Relocate without the Expensive Rates
Anyone who understands the hard work that goes into earning a paycheck wants to save money. From your grandmother to our affiliates, everyone is looking for a deal that will provide them with the best product at the lowest possible prices. So how will MovingCost.com feed your hunger for savings? Simply contact one of our helpful moving coordinators and provide your basic information. Upon determining which company in our network best suits your individual needs, they will connect you to those apartment relocation experts. It's that simple.